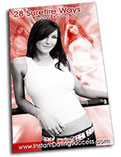 Fast becoming an online best-seller, this is the

FIRST

ever dating & attraction compilation book that is collectively written by 11 of the Net's most promising dating experts of today - unlike anything you've seen before!

All 11 of them will show you their 28 most POWERFUL dating techniques. That's easily over 308+ of the latest tips for you - and that's just the gist of it.

Some focused on technique, some on the inner game inside your head, some on online dating, the list just goes on and on... all brought a very different & interesting perspective to the ever 'evolving' subject of dating & seduction.

In this 'first-of-its-kind' best-selling course you are going to learn everything from step-by-step instructions you can use to immediately get beautiful women of your choice to approach you and ask you out for dates to how to have stunning looking women laughing, touching and wanting you within seconds of meeting them.

No matter how 'bad' you are with women before this, you will learn the one single most powerful thing you can do to become extremely successful at attracting the women you've always wanted, and why almost no men do it.

You will learn how to 'talk' your way to a woman's heart -- how to know what to say, when to say it, and how to say it...

And if that's not enough, you will also learn how to quickly and easily overcome your shyness and have complete 'lion-like' confidence to meet all the gorgeous women that you've always fallen for in any situation.

and so much more...

This book is overflowing with hundreds of great ideas and techniques from the many authors that took up the challenge - which makes it a totally refreshing and interesting examination on the topic from all angles; a definite MUST read . I highly recommend it! Click here to read it now...